Pattern for Henrician Girl's Petticoat, Kirtle and Gown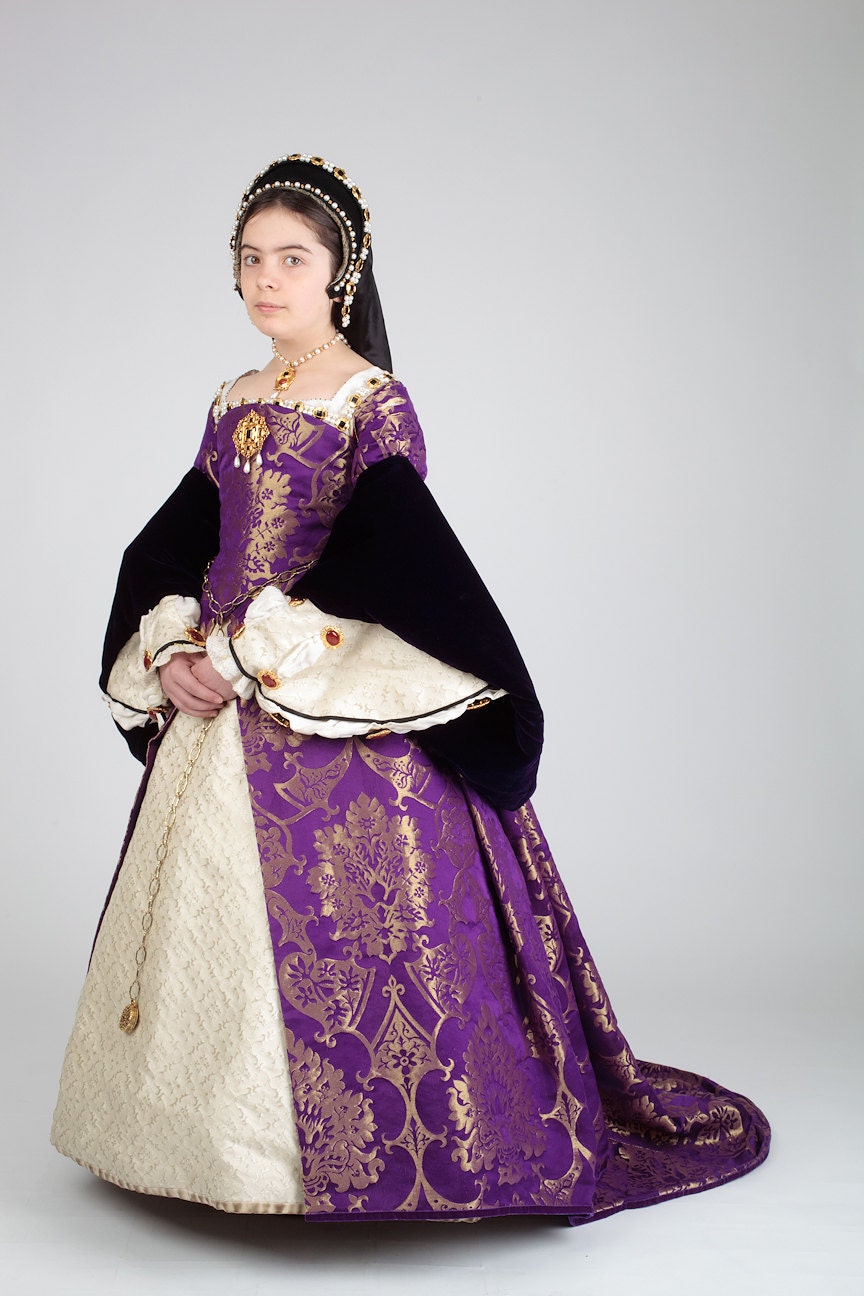 Patterns for Tudor-era children's petticoat, kirtle, foresleeves and gown. Ideal for upper-class and royal girls of the 16th century. With full instructions for choosing materials, sizing and constructing garments - perfect for reenactors.

This pattern is from our most recent book, The Tudor Child. It was originally developed for a costume made for use at The Tower of London and is based on documentary descriptions, extant examples and paintings, including:

- Elizabeth I as a princess (1546), William Scrots, The Royal Collection
- Pair of silk bodies (1598), Bayerisches Nationalmuseum, Munich, inventory number T4111
- Satin gown & velvet bodies worn by Eleanora of Toledo (died 1562), Palazzo Pitti, Florence, Italy
- Clothing for Princess Elizabeth in the accounts of Katherine Parr, TNA E101/423/12, unfoliated


Please note this is a children's pattern and see the sizing information below to ensure you're selecting the correct pattern.

Patterns for each of the three garments in this pack are printed out in five sizes to fit ages 8 to 12 years. Designed to fit the following measurements:

Waist 21½ to 26½ inches/54.5 - 67.5cm
Chest 26½ - 31½ inches/67.5 - 80cm

If you need this pattern in adult sizes you can find it here (in smaller sizes): https://www.etsy.com/listing/113256294/pattern-for-henrician-ladys-petticoat or here (in larger sizes): https://www.etsy.com/listing/113256177/pattern-for-henrician-ladys-petticoat


Also note, the photographs show garments worn over a farthingale. The farthingale and French hood patterns are not included in this pack but can be purchased separately. Our farthingale pattern can be found here: https://www.etsy.com/listing/111933831/pattern-for-tudor-and-elizabethan? Our French hood pattern can be found here: https://www.etsy.com/listing/111957260/pattern-for-womens-tudor-french-hoods

Any photos of actual garments are examples only – no garments are included with this product.
Ships
from
| ship to | cost | with another item |
| --- | --- | --- |