Pattern for Early Tudor Ladies' Gowns - Small Sizes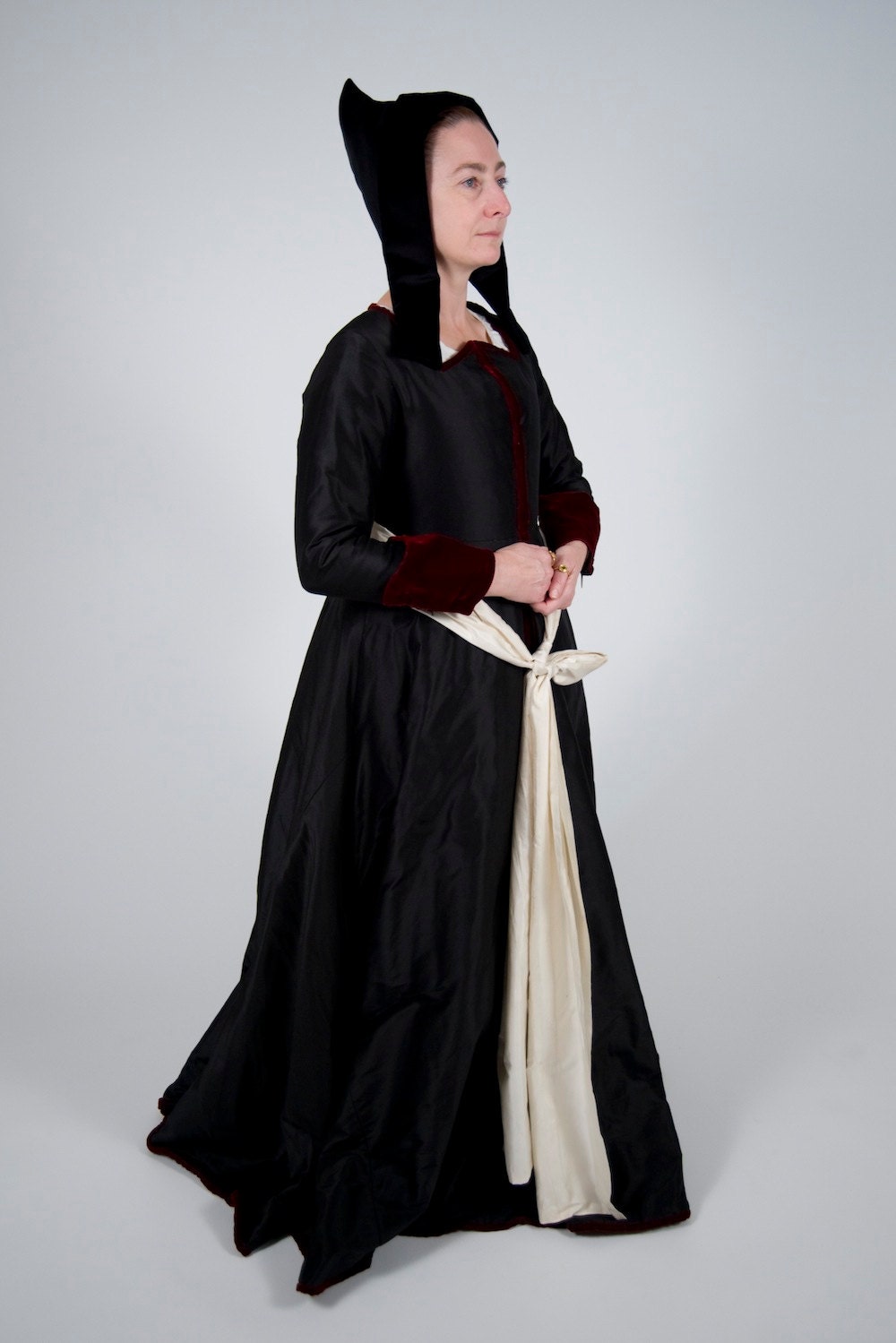 Patterns for several styles of Tudor gowns (dresses or overdresses), suitable for Elizabeth of York, Catherine of Aragon and other ladies c1485-1520. With full instructions for choosing materials, sizing and constructing garments - perfect for reenactors.


These patterns were developed for inclusion in The Queen's Servants and are based on the garments and fabrics issued by the Great Wardrobes of Henry VII and Henry VIII as well as visual sources including:
- Mary of Burgundy's gown (1475-1500) at the Hungarian National Museum, Budapest, Hungary: Inventory number 1928.36
- Anne Serche's brass memorial (1502) at St Peter & St Paul's Church, Northleach, Gloucestershire
- Eleanor of Castile, stained galss (1505), Victoria and Albert Museum, London, Inventory no: 293:1, 293-1874
- 'The dress of the most holy virgin' (c1513), Liebfrauenkirche in Trier, Germany, information available in Flury-Lemberg, M (1988) Textile conservation and research: a documentation of the textile department on the occasion of the twentieth anniversary of the Abegg Foundation, Bern: Abegg Stiftung, 285-289


This pattern is available in either larger sizes or smaller sizes. This particular listing is for the smaller sizes. Please see the information below to ensure you're selecting the correct pattern for you. The photos for this listing also include a chart detailing specific measurements for each size.

Smaller Sizes
8, 10, 12, 14, 16 (UK) / 6, 8, 10, 12, 14 (US)

Larger Sizes
18, 20, 22, 24, 26 (UK) / 16, 18, 20, 22, 24 (US)

If you need this pattern in larger sizes you can find it here: https://www.etsy.com/listing/111853828/pattern-for-early-tudor-ladies-gowns


Please note, these gowns are designed to be worn over a separate petticoat or kirtle. Patterns for these are not included and should be purchased in addition to the gown pattern. (Our Early Tudor Ladies' Kirtles and Petticoats pattern can be found here: https://www.etsy.com/listing/111853635/pattern-for-early-tudor-ladies-kirtles?ref=related-2)


Photos of actual garments are examples only – no garments are included with this product.
Ships
from
| ship to | cost | with another item |
| --- | --- | --- |