Pattern for Women's Late Elizabethan Gowns - Small Sizes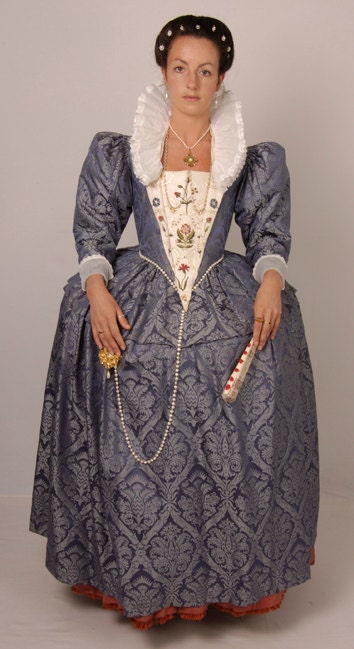 Patterns for ladies' late Elizabethan gowns with various bodice and sleeve styles, including optional hanging sleeves. Perfect for Queen Elizabeth I and other late 16th/early 17th Century impressions (suitable for ladies from c1580-1620). With full instructions for choosing materials, sizing and constructing garments - perfect for reenactors.


Based on documentary descriptions, extant examples and paintings, including:
- Skirt or petticoat in the Nationalmuseet, Copenhagen c1615-20 in Arnold, J (1985) Patterns of fashion: The cut and construction of clothes for men and women c1560-1620, London: Macmillan, 116
- Bodices & sleeves in Alcega, J (1589) Libro de Geometria, pratica y traca, Victoria and Albert Museum, London
- Elizabeth I wardrobe accounts, 1588 - "verthingale sleeves of whales bone covered with fustian [to hold out her satin sleeves]", Arnold, J (1988)
 Queen Elizabeth's Wardrobe Unlock'd, Leeds: Maney, 108


This pattern is available in either larger sizes or smaller sizes. This particular listing is for the smaller sizes. Please see the information below to ensure you're selecting the correct pattern for you. The photos for this listing also include a chart detailing specific measurements for each size.

Smaller Sizes
8, 10, 12, 14, 16 (UK) / 6, 8, 10, 12, 14 (US)

Larger Sizes
18, 20, 22, 24, 26 (UK) / 16, 18, 20, 22, 24 (US)

If you need this pattern in larger sizes you can find it here: https://www.etsy.com/listing/111952209/pattern-for-womens-late-elizabethan?ref=related-7


Please note, these gowns are designed to be worn over separate bodies (corsets) and farthingales (hooped petticoats). Patterns for these are not included and should be purchased in addition to the gown pattern. You can find our bodies pattern here: https://www.etsy.com/listing/111933583/pattern-for-tudor-elizabethan-bodies-or. Our farthingale pattern can be found here: https://www.etsy.com/listing/111933831/pattern-for-tudor-and-elizabethan?


Photos of actual garments are examples only – no garments are included with this product.
Ships
from
| ship to | cost | with another item |
| --- | --- | --- |