Pattern for Women's Elizabethan Fitted English Gowns - Large Sizes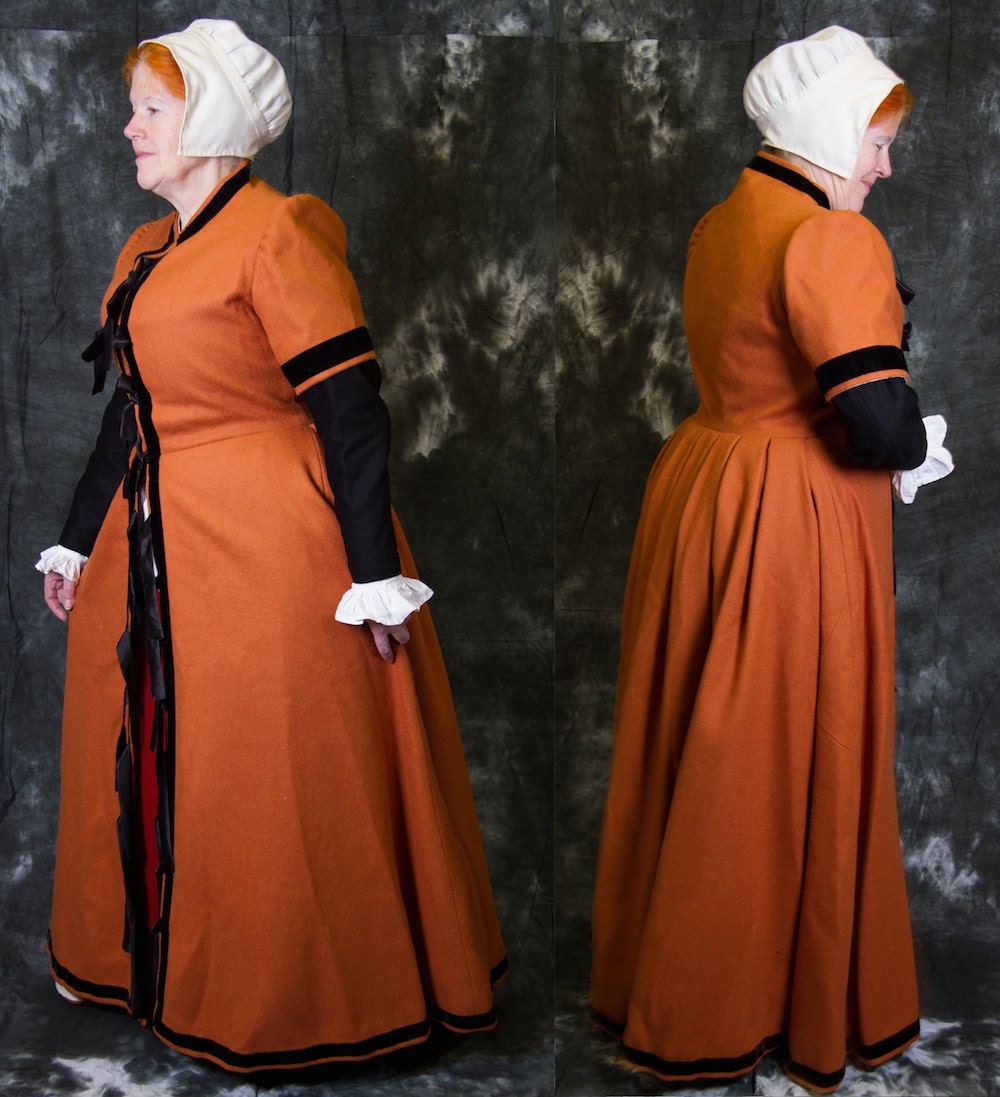 Patterns for several styles of Elizabethan fitted gown with variations on bodice, skirt and sleeve styles. Ideal for mid-to-late 16th century impressions. With full instructions for choosing materials, sizing and constructing garments - perfect for reenactors.


Based on extant examples, brasses, effigies and drawings, including:
- A woman's loose gown c1570-80 in Arnold, J (1985) Patterns of fashion: The cut and construction of clothes for men and women c1560-1620, London: Macmillan
- Weeper figures on the tomb of Sir George Vernon, 1567 at All Saints Church, Bakewell, Derbyshire
- Brass of a lady, 1570, in St Thomas's church, Salisbury, Wiltshire
A Group of English Women, c1570, Lucas de Heere watercolour The British Museum, London.


This pattern is available in either larger sizes or smaller sizes. This particular listing is for the larger sizes. Please see the information below to ensure you're selecting the correct pattern for you. The photos for this listing also include a chart detailing specific measurements for each size.

Smaller Sizes
8, 10, 12, 14, 16 (UK) / 6, 8, 10, 12, 14 (US)

Larger Sizes
18, 20, 22, 24, 26 (UK) / 16, 18, 20, 22, 24 (US)

If you need this pattern in smaller sizes you can find it here: https://www.etsy.com/listing/111954655/pattern-for-womens-elizabethan-fitted?ref=related-7


Please note, these gowns are designed to be worn over other garments. The most usual would be a well-structured kirtle (as in the photos above). Patterns for a kirtle are not included in this product and would need to be purchased in addition to the gown pattern. Our Women's Tudor Kirtles and Petticoats pattern can be found here: https://www.etsy.com/listing/111902504/pattern-for-womens-tudor-kirtles-and

Another option is to wear this gown over separate bodies (our pattern can be found here: https://www.etsy.com/listing/111934085/pattern-for-tudor-elizabethan-bodies-or) or preferably an upper-bodied petticoat (bodies attached to a skirt rather than worn on their own).

This gown can also be worn with a farthingale, though this is optional. Our farthingale pattern is here: https://www.etsy.com/listing/111933592/pattern-for-tudor-and-elizabethan


Photos of actual garments are examples only – no garments are included with this product.
Ships
from
| ship to | cost | with another item |
| --- | --- | --- |