Pattern for Henrician Lady's Petticoat, French Kirtle and Gown - Large Sizes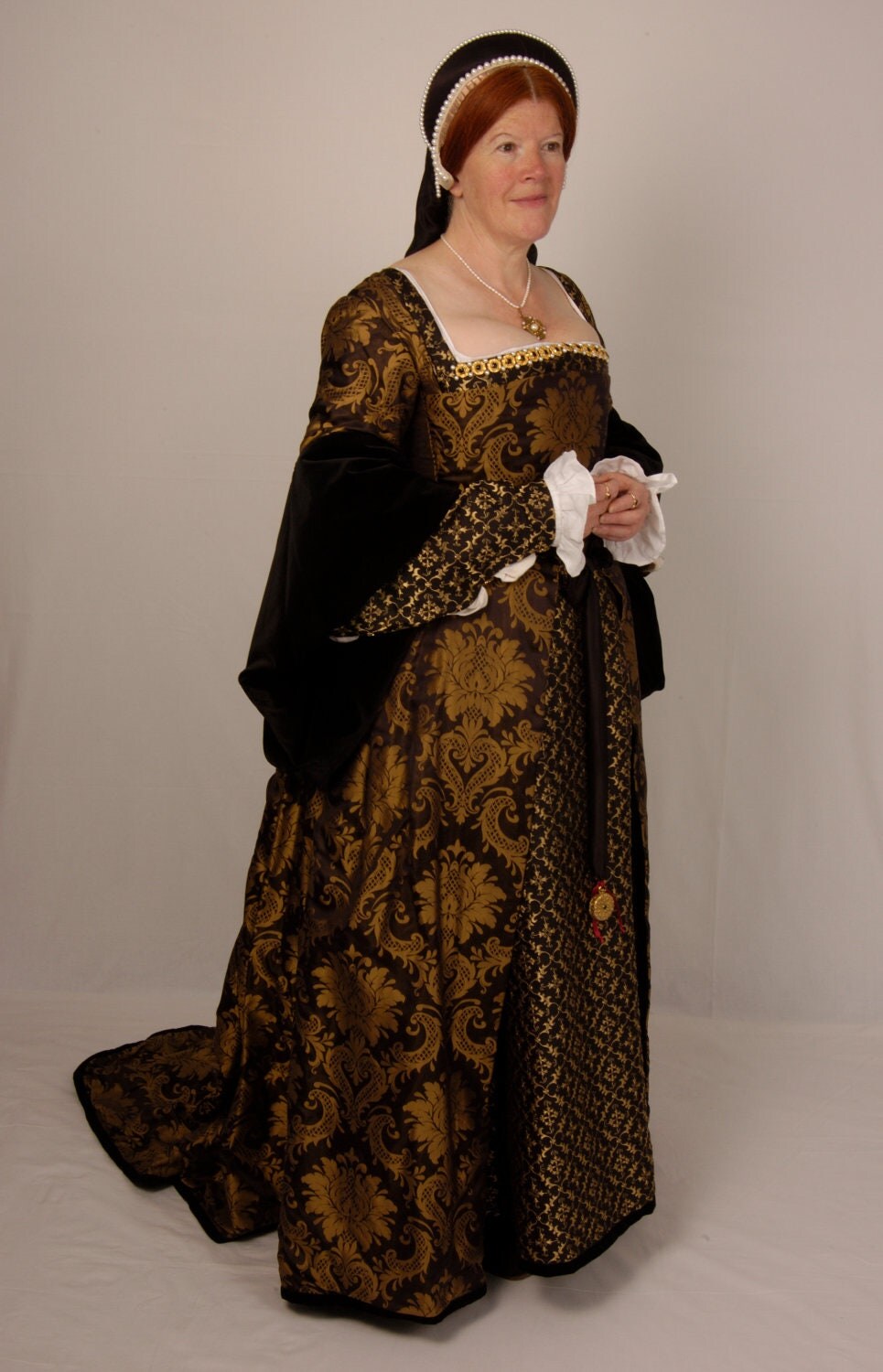 A complete Tudor costume in one pattern! Includes petticoat, French kirtle and gown patterns in various styles. Ideal for Anne Boleyn, Jane Seymour, Princess Elizabeth and other ladies c1530-1560. The pack contains patterns for all the layers required (apart from a smock or chemise). Separate bodies (corset) are not necessary. With full instructions for choosing materials, sizing and constructing garments - perfect for reenactors.


Based on documentary descriptions, extant examples and paintings, including:
- Pair of bodies c1598 in Arnold, J (1985) Patterns of Fashion: The cut and construction of clothes for men and women c1560-1620, London: Macmillan
- Mary Tudor's wardrobe accounts,
1556 (E101/427/11)
- Elizabeth I wardrobe accounts,
1576 & 1580 in Arnold, J (1988)
Queen Elizabeth's Wardrobe Unlock'd, Leeds: Maney pp. 155
- Two views of a woman wearing an English hood, Hans Holbein c1528-30 British Museum
- Portrait of Jane Seymour, Hans Holbein 1537 Royal Cabinet of Paintings, Mauritshuis
- Portrait of Catherine Parr, att. Master John c1545 National Portrait Gallery


This pattern is available in either larger sizes or smaller sizes. This particular listing is for the larger sizes. Please see the information below to ensure you're selecting the correct pattern for you. The photos for this listing also include a chart detailing specific measurements for each size.

Smaller Sizes
8, 10, 12, 14, 16 (UK) / 6, 8, 10, 12, 14 (US)

Larger Sizes
18, 20, 22, 24, 26 (UK) / 16, 18, 20, 22, 24 (US)

If you need this pattern in smaller sizes you can find it here: https://www.etsy.com/listing/113256294/pattern-for-henrician-ladys-petticoat

We also have a children's version of this pattern. You can find it here: https://www.etsy.com/listing/130095378/pattern-for-henrician-girls-petticoat


Also note, photos of actual garments are examples only – no garments are included with this product.
Ships
from
| ship to | cost | with another item |
| --- | --- | --- |