Men's Used Black Wool Elizabethan/Renaissance Reenactment Costume - Large Size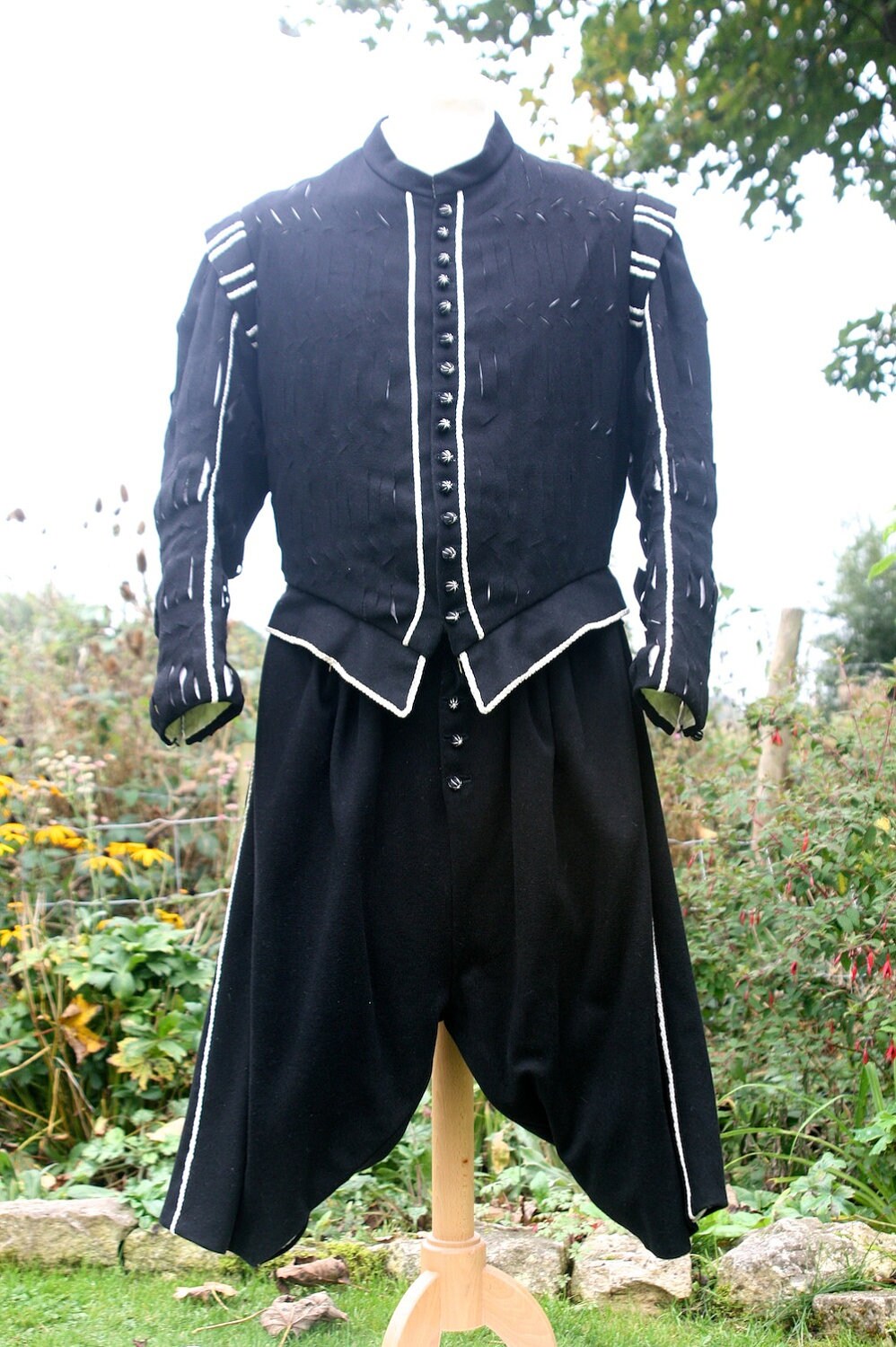 Made by Ninya Mikhaila - gentleman's previously worn black wool doublet and Venetian hose with striking white trim, suitable for late Elizabethan/Renaissance impressions, late 16th Century/early 17th Century.


History:

This garment was worn by a professional costumed interpreter at Hampton Court Palace at some point between 2003 and 2004. It is of the highest quality and has been made using fabrics and patterns appropriate to the time period.


Costume Description:

Black wool doublet with cream silk lining, featuring dynamic slashing details which peek through to cream silk under fabric. Striking cream-coloured braid detailing throughout. Doublet fastens down centre front by means of 15 handmade black-and-cream thread-covered buttons. Very lightly boned and padded for slight peascod belly (very fashionable amongst Elizabethans!). Short peplum skirt is made up of 3 large tabs, which meet at the side back seams.

Hose attach to the doublet by means of eyelets and aiglet ties which are threaded through a concealed linen band at the waistline inside the doublet. Inside of doublet also includes 2 linen tabs with eyelets near centre front for adjusting fit at waist.

The doublet features a narrow collar (1 1/4" or 3cm) and small wings at the shoulders with dramatic braid detail (1 3/4" or 4 1/2cm across). Attached sleeves have a small slit at the wrist with 2 buttons and hidden hook and loop closure.

Matching black wool Venetian hose have a soft cream calico (U.S. muslin) lining. Gathered at the waist, full through the hips and tapering toward the knee. Includes convenient vertical side pockets with black linen pocket lining and cream braid trim down the outside leg seams.

Waistband features slit at centre back (4" or 10cm long) with eyelets and tie at top for adjusting waist size according to personal measurements. Hose fasten in front with fly opening, featuring 3 cream-and-black thread-covered buttons plus aiglet tie at waist. Knee is ungathered and has a slit on the inside leg seam with hook and loop fastening at bottom edge.

Please note the photos do not do the fit of the hose justice, as they are pinned flat to the dress stand!

Doublet and hose are both machine-stitched on construction seams, but with linings slip-stitched by hand inside. Buttonholes and eyelets are hand-stitched.


Overall Costume Condition:

This costume is in excellent condition! However, as it has been worn previously, it does have reasonable signs of wear as one might expect. Specifically, please note that there is some discolouration on the lining fabric around cuffs, collar seam and inside front opening. Also, slight discolouration on trim around front skirt edges (see photo). (This might come out with some very careful cleaning, but we haven't tried!)


Fits Measurements:

Chest: 43 1/2" or 110cm
Waist: 34 1/2" or 87cm, but can expand to 38" or 96cm
Back: 15 1/2" or 39cm
Neck: 19" or 48cm
Nape of Neck to Waist: 18 1/2" or 47cm
Neck to Shoulder: 6" or 15cm
Outer Arm: 24" or 61cm
Wrist: 9" or 23cm
Hips: 48" or 122cm
Waist to Knee: 26 1/2" or 67cm
Bent Knee Circumference: 14" or 35cm
(Generally a Large sized costume.)


We regret that returns are not possible. Please see our Policies page for more info.
Ships
from
| ship to | cost | with another item |
| --- | --- | --- |